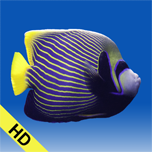 Fishies is our first application, available for purchase on Apple iTunes store for the iPhones 6's/5/4 and iPod Touch, on Barnes and Noble AppStore for NOOK (HD/HD+, Color or Tablet), and on Amazon AppStore for Kindle Fire HD/HDX's or Android 2.2+ xxhdpi/xxxhdpi!   Now HD iFishies is also available on iPad (Air/Retina/Mini)!
Journey under water to the coral reef and play with a school of fish!
Trace your finger around and the fish follow your every move.
Tap and they obediently race over.
Tap twice and they run away.
Or simply do nothing and watch them wander about.
Shake the phone and see what happens…
Enjoy!
Updated version now available: less-caffeinated fish, louder bubbles, and new shake behavior.  And always Ad-Free!