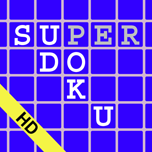 SuperDoKu is available for purchase on Apple iTunes for the iPhones 6's/5/4, iPod Touch, and iPad (Air/Retina/Mini), on Amazon AppStore for Kindle Fire HD/HDX's or Android 2.2+ xxhdpi/xxxhdpi, onBarnes and Noble AppStore for NOOK HD/HD+, Color or Tablet!
SuperDoKu will forever change the way you experience the challenge of Sudoku.
Whether you're an expert or a beginner, there's a puzzle for you:
Seasoned players can play the standard puzzle in easy, medium, and hard levels.

Beginners and children can play our mini/maxi-Sudoku puzzles (2×2, 2×3, 3×2).
For your endless amusement, SuperDoKu generates an infinite number of puzzles.  Our proprietary algorithms ensure that you'll never run out of puzzles.  And forever Ad-Free!
With our unique auto-save feature, you'll never have to worry about losing your game. If you quit the app, simply relaunch it and you'll pick up right where you left off.
Are you stuck? Or maybe too tired to think but still want to play?  We've got just the features for you:
Try our special on-demand "Hint" feature to get a hint in green color or show incorrect cells in red color.

Use auto pencil-markings as often or as little as you like so quality time is spent on solving Sudoku instead of tediously marking cells manually

Tap an empty cell multiple times to easily narrow down possible values

Try alphabetic board at a touch of finger, or stick with classic Sudoku board.
Or ask SuperDoKu to start solving the puzzle for you and enjoy a step-by-step animation (with classical music accompaniment) that even reveals the dead-ends that it hits!  As an added bonus, you're free to stop the animation by tapping any cells or function keys at any point to continue playing the game.
If you've never played Sudoku before, playing SuperDoKu is a great way to sharpen your logic (or your child's).  We offer three mini-Sudoku variations that are a perfect way to see what the excitement is all about.
New v3.0 comes with Auto-Rotation support for landscape orientations;   Versatile Visual Hints to sharpen and 'hone' in your playing skills;   Superior Hints to handle any board condition;   Every game freshly-crafted and 'true' Sudoku with unique solution;   new "Undo" feature to complement our unique "Solve" animation feature;   Soothing music to accompany the both animations, and more!
Enjoy the power and intelligence of SuperDoKu!