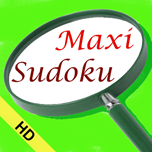 mini/maxi Sudoku is available for purchase on Apple iTunes for the iPhones 6's/5/4, iPod Touch, and iPad (Air/Retina/Mini), on Amazon AppStore for Kindle Fire HD/HDX's or Android 2.2+ xxhdpi/xxxhdpi, on Barnes and Noble AppStore for NOOK HD/HD+, Color or Tablet!
Curious about Sudoku but feel intimidated?  Then mini/maxi Sudoku is just for you!  With each game freshly crafted to optimize your playing experience!  A great Sudoku for kids, or Sudoku for beginners!  New auto-rotation support for landscape orientations!  And Ad-Free, too!
mini/maxi Sudoku has 6 Sudoku flavors to satisfy whims and fancies of players of all ages and skills:
2×2, 2×3, 3×2, 2×4, 4×2, and the usual 3×3 squares
Additional features:
New alphabetic board at a touch of your finger tip

"Hint" and "Crib" to help sharpen your playing skills

"Solve" and "Undo" animation sequence with music

Auto-save so you'll never lose your unfinished game

Tracking of fastest playing time and games played
The "Hint" or "Crib" feature will assist you like an expert Sudoku master at your side. You may find those suggestions a great learning experience to 'hone' in your playing skills.  Let our auto pencil-markings relieve you the mechanical and tedious task of manual pencil-markings, which can become old quickly.
The "Solve" feature shows in animation sequence how a game can be solved, but can be stopped any time by tapping any cells or buttons so you can resume your play. Each empty cell can also be tapped multiple times to gradually narrow down its valid choice.
New "Undo" feature complements the "Solve" feature with soothing music media accompanying animation plays.
mini/maxi Sudoku auto-save always picks up where you've last left off or been interrupted during your play.  For your amusement, your solving time will be tracked whenever a game is solved without the "Solve" feature.
3×3 game has the same "Easy" level of our other popular SuperDoKu app.  If you enjoy mini/maxi Sudoku and feel like testing your 3×3 skills against "Medium" and "Hard" levels, check out SuperDoKu, crafted with the same exacting details and care and with games to match your desired difficulty levels.
Enjoy the power and intelligence of mini/maxi Sudoku!